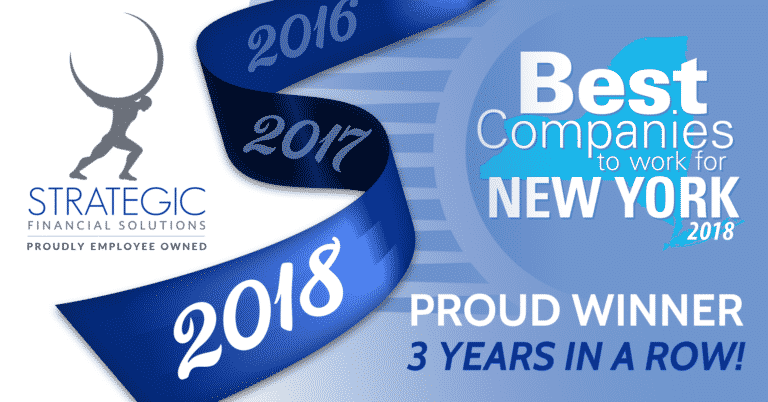 Strategic Financial Solutions' Buffalo Office Hires its 100th Employee Owner, Contining Its Impressive Growth
New York, NY, – Strategic Financial Solutions announced today that it has hired its 100th employee owner – only six months after opening its permanent office in a state-of-the-art 70,000 square foot facility at 115 Lawrence Bell Drive in Amherst. Strategic Buffalo is currently hiring for positions in its Customer Service, Sales, and Negotiations departments, as well as hiring professional and management positions across all departments.
Ryan Sasson, CEO, said, "I am thrilled with the progress that our Buffalo office has made. We are ahead of pace on our 5-year hiring commitment that we made to New York State. As we anticipated, Buffalonians and Strategic are a perfect culture match and that is felt from the second someone walks into the office. We are even more bullish on Buffalo today than we werea year ago."
Strategic Financial Solutions is a 100% employee owned financial services company that provides comprehensive debt relief solutions for people in challenging financial situations. Strategic has successfully resolved more than $1 billion in high interest consumer debt for over 100,000 clients.
"As a lifelong resident of Western New York, I'm not at all surprised at the quality of the candidates we are meeting," said Robert Duggan, VP of Operations. "We are honored to be a part of this vibrant and growing community that aligns with our company's core values. The culture and pride of the Buffalo area is evident in every new employee owner that comes towork at Strategic."
"The growth and opportunities that Strategic Financial Solutions is bringing to Buffalo is incredibly exciting," added Andy Pyne VP of Operations. "We are aggressively hiring and haveno doubt that the talent pool that we know exists in Western New York will provide incredible candidates to become a part of our growing Strategic Family."