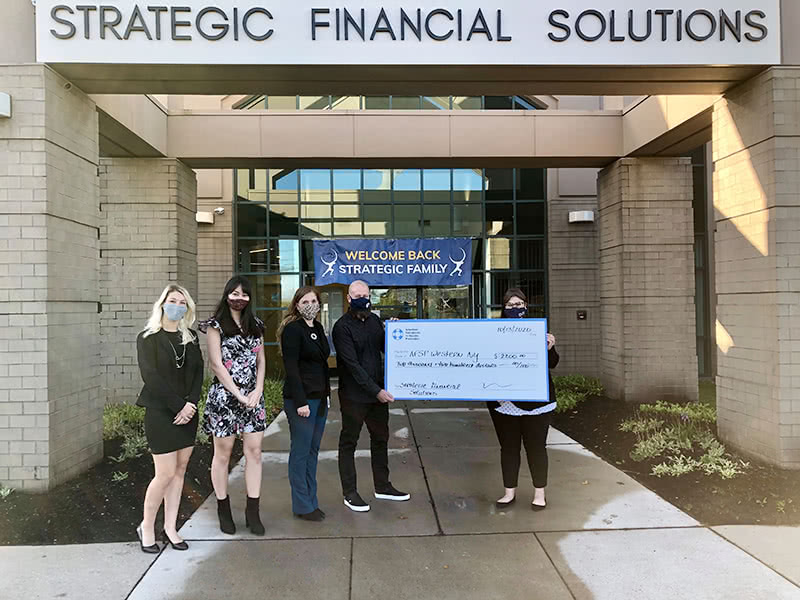 Strategic Financial Solutions Raises Over $2,200 in Honor of National Suicide Prevention Month
New York, NY – Strategic Financial Solutions, a leading financial services firm that provides debt relief solutions for people in challenging financial situations, created the campaign "#StratWalksAMile" to raise money and awareness during National Suicide Prevention Month. Strategic raised over $2,200 for The American Foundation for Suicide Prevention (AFSP).
"There are a heartbreaking number of suicides in the United States each day," said Kimberly Celic, Chief People Officer at Strategic Financial Solutions. "It's important that we continue to have conversations about mental health, how we can help each other, and the different resources that are available nationwide. Although September was National Suicide Prevention Month, we are committed to helping our employee-owners who are struggling with mental health issues whenever they need it."
Beginning on September 8th and continuing through September 21st, Strategic encouraged its employee-owners to help raise awareness for suicide prevention by walking a mile. For each employee that walked or ran a mile, Strategic donated $10 to The AFSP. Over 200 employee-owners participated in the event, highlighting their commitment to the cause.
"I cannot express how much it means to me to have my Strategic Family involved in such an important cause," said Melanie Lehner, Quality Assurance Specialist at Strategic Financial Solutions. "Through this challenge, I hope that anyone who is struggling realizes that there are people who are there for them and support them. No matter what the issues that my Strategic Family is facing, I hope everyone takes this as an important reminder that the world is a better place with them in it."
Established in 1987, the American Foundation for Suicide Prevention is a health organization that gives those affected by suicide a nationwide community empowered by research, education, and advocacy. Strategic's donation will help fund scientific research, educate the public about mental health and suicide prevention, advocate for public policies in mental health, and support survivors of suicide loss and those affected by suicide.
"On behalf of the Western NY Chapter of AFSP, we are humbled and thrilled to have the support of the Strategic Family through September's '#StratWalksaMile' campaign," said Missy Stolfi, Area Director for the American Foundation for Suicide Prevention. "We need more companies like this to stand up and say that mental health is a priority, in order to change our culture and reduce stigma. The funds raised through this collective employee effort helps us continue offering to community members free prevention education programs, materials, loss and healing support, and engage in advocacy efforts at the state and federal levels. It sustains our groundbreaking suicide prevention research and moves us closer to our bold goal of reducing the national suicide rate by 20% by the year 2025."
About The American Foundation for Suicide Prevention
The American Foundation for Suicide Prevention is dedicated to saving lives and bringing hope to those affected by suicide. AFSP creates a culture that's smart about mental health through education and community programs, develops suicide prevention through research and advocacy, and provides support for those affected by suicide. Led by CEO Robert Gebbia and headquartered in New York, AFSP has local chapters in all 50 states with programs and events nationwide. Learn more about AFSP in its latest Annual Report, and join the conversation on suicide prevention by following AFSP on Facebook, Twitter, Instagram, and YouTube.
American Foundation for Suicide Prevention
Missy Stolfi, Area Director
Western & Central New York
American Foundation for Suicide Prevention Office: (585) 202-2783
Email:

[email protected]