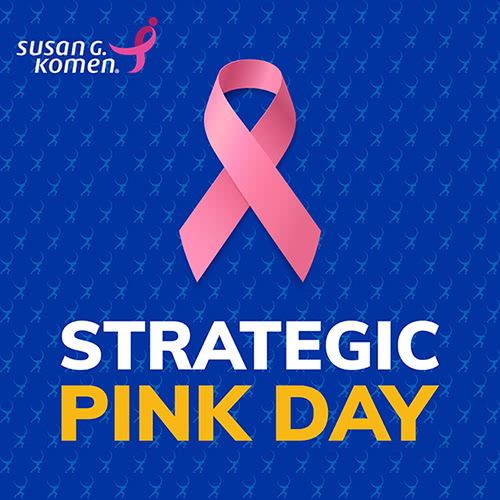 Strategic Financial Solutions Raises Over $3,000 To Support Breast Cancer Research
New York, NY – Strategic Financial Solutions, in honor of Breast Cancer Awareness Month, held its fifth annual Pink Day. This event was created to raise money for breast cancer research. The company announced that it would donate $10 to the Susan G. Komen Foundation for every employee owner who participated in Pink Day by wearing pink for the day.
More than 300 New York City and Buffalo employee owners showed their support by wearing pink and raised $3,150 for the Susan G. Komen Foundation, the world's leading nonprofit breast cancer organization. The donation will be split evenly between the New York City and Upstate New York chapters of the foundation.
"We know this year looked so different for so many people. Unfortunately, we are reminded that cancer doesn't wait because of a pandemic. The generous donation from Strategic Financial Solutions' employees helps more than you know this year," said Caroline Hurley, Development Manager of Komen Upstate NY. "These dollars help us to support the BOLD goal of reducing breast cancer deaths by 50% by the year 2026 through funding of groundbreaking research, providing treatment assistance for those currently battling breast cancer, and providing the Komen helpline which helps newly diagnosed men and women receive information and support through this time."
In addition to research and advocacy, Strategic's donation helps support breast cancer patients through Komen's other patient-centered services including the Treatment Assistance Program, which helps ease the financial burden of treatment and related costs.
"Strategic has always been committed to supporting causes that strengthen the well-being of our communities. We are proud to again partner with Susan G. Komen and support its efforts to help find a cure for a disease that impacts so many of our clients and employee owners," said Ryan Sasson, CEO of Strategic Financial Solutions. "I am honored to lead such an empathetic team who care so deeply about each other, their families, and their clients. This shows, yet again, how Strategic is more than a company, it's a family."
About Susan G. Komen
Susan G. Komen is the world's leading nonprofit breast cancer organization, working to save lives and end breast cancer forever. Komen has an unmatched, comprehensive 360-degree approach to fighting this disease across all fronts and supporting millions of people in the U.S. and in countries worldwide. We advocate for patients, drive research breakthroughs, improve access to high-quality care, offer direct patient support and empower people with trustworthy information. Founded by Nancy G. Brinker, who promised her sister, Susan G. Komen, that she would end the disease that claimed Suzy's life, Komen remains committed to supporting those affected by breast cancer today, while tirelessly searching for tomorrow's cures.