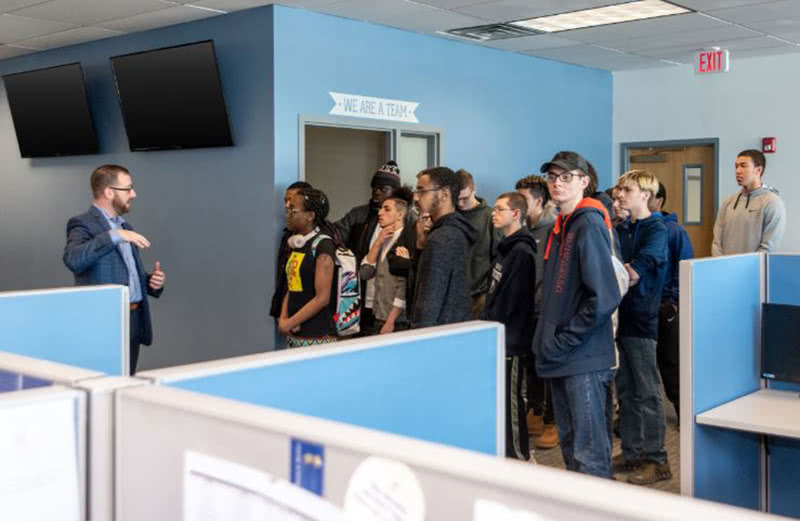 Strategic Financial Solutions Hosts Students from Sweet Home High School
New York, NY, – Strategic Financial Solutions hosted 20 students from Sweet Home High School in Buffalo, NY to highlight the best practices for securing and maintaining an entry-level position in the Western New York area. The tour included meetings with senior leadership and human resources as well as a building tour, details about the open job roles and qualifications, followed by interview tips, and LinkedIn training with resume best practices.
"As the high school transition specialist, I try to expose students to all the possible career paths that are available to them," said Amanda Hoffman of Sweet Home High School. "At Sweet Home, we like to make sure every student is ready for the future, no matter what that future may entail. We prepare everyone to find their unique contribution to society and the community. I often find that students only know what they have been exposed to, so taking students on career field trips, like this one, shows them that there are high-quality jobs in the local community; this can be an eye-opening experience for many students. We appreciate Strategic taking the time to talk with our students."
Sweet Home High School focuses on giving students exposure to high-quality job opportunities beyond high school. By encouraging students to look at different positions and industries, such as security, administrative, maintenance, sales, management, etc., students gain a greater understanding of what options are available. Strategic Financial Solutions was one of three companies highlighted on the tour, others included GEICO and Great Lakes Transportation.
"When Strategic expanded to Buffalo, we knew we wanted to be as involved as possible with the community," said Robert Duggan, Vice President of Operations – Negotiations. "We value the enormous talent that lives in Western New York and are honored to help refine and guide these young minds to make the best professional choices possible. They really are the future of our beloved and growing Buffalo!"