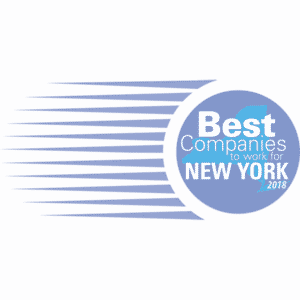 Strategic Financial Solutions Selected as One of the Best Companies to Work for in New York State
New York, NY, January 17, 2018 – Strategic Financial Solutions, a leading provider of comprehensive debt relief services and debt consolidation loans for consumers, has once again been selected as one of the Best Companies to Work for in New York State in the large companies category. 2018 marks the third consecutive year that Strategic has been ranked in the prestigious The Best Companies Program. Founded in 2007 through a partnership with the New York State Society for Human Resource Management (NYS-SHRM) and The Business Council of New York, the Best Companies Group determines the strengths and opportunities of participating companies based on core focus areas for ranking status.  The official rankings of the companies will be announced on April 18th, 2018 in a private awards ceremony to honor the recipients of their accomplishments.
"To be recognized as a Best Company to Work For in New York for a third consecutive year is incredible, especially considering the growth our Strategic Family experienced in 2017," said Ryan Sasson, CEO.  "Our team is committed to helping clients that have fallen behind financially due to high-interest credit card debt and it's that mission that creates a culture where people are proud to work."
Founded in 2007, Strategic Financial Solutions set out to aid consumers burdened with heavy credit card debt.  Since its founding, the company has grown to over 600 employees and resolved more than a billion dollars of debt for over 100,000 clients.
About the Best Companies New York State Program
The Best Companies to Work for in New York State program is a partnership between the NYS-SHRM, The Business Council of New York and Best Companies Group. The Presenting Sponsor of the 2017 awards was Bethpage Federal Credit Union; Supporting Sponsors were Anchin, Blue 449, Strategic Financial Solutions, LLC and UPSCO, Inc. For more information on the Best Companies to Work for in New York State program, please visit http://www.BestCompaniesNY.com/