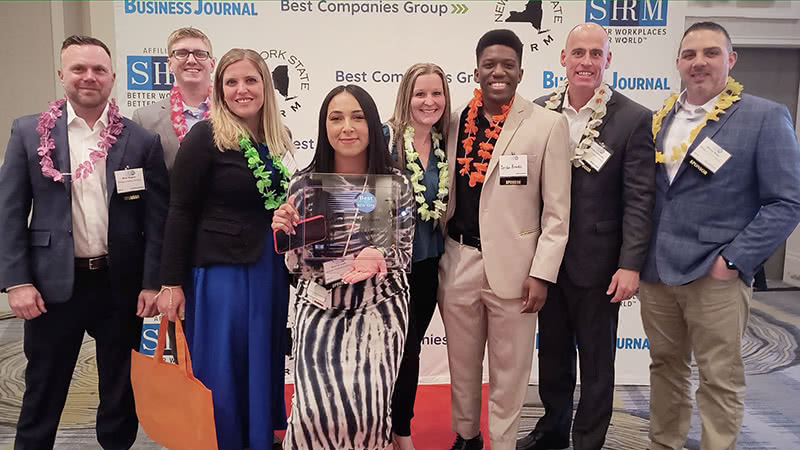 Strategic Financial Solutions Once Again Wins Prestigious "Best Companies To Work For In New York" Award
New York, NY — Strategic Financial Solutions, the trailblazing financial services firm that empowers individuals facing daunting financial challenges, has once again secured a place of honor amongst an exclusive group of employers, winning the prestigious "Best Companies To Work For In New York" award for an unprecedented seventh time, and it's highest ranking placement yet at 18th.
The event, held in April in Albany, NY, was a magnificent celebration of achievement, hosted by the New York State Society for Human Resource Management (NYS-SHRM), Best Companies Group, and Bridgetower Media / Rochester Business Journal. Over 75 outstanding organizations, all dedicated to advancing the state's businesses, economy, and workforce, gathered to be recognized. Strategic sponsored 8 senior leaders to accept the accolade on behalf of the company.
Ryan Sasson, CEO, shared his excitement, saying, "Being consistently acknowledged for our accomplishments among such a fiercely competitive group is nothing short of remarkable. This external validation, confirming what we experience as employee-owners every single day, is truly awe-inspiring."
Kimberly Celic, Chief People Officer, expressed her pride at the recognition, stating, "As a devoted member of SHRM for years, it is incredibly fulfilling to be able to share this prestigious honor with our peers in New York. While many companies have faced unprecedented challenges in the last few years, Strategic's unwavering mission-driven work has propelled us forward and recognition couldn't have come at a more special time for us."